December 27, 2016

Maddox Smith

0
Part-6 Business Development Assignment Help
Business management has rapidly grown into one of the most sought after disciplines of mode times. Global corporate houses hire specially tra
ined graduates in order to bring scientific rigour into business practices. Universities and colleges provide separate business courses, while several management schools have been established over the last three decades. Business development is a sub-field of business management and aims at developing the business of a particular company using methods and tactics of business management. Business development assignment help is now provided by cheapassignmenthelp.co.uk.
But let us first see what is business development, what are the main areas covered by it and what are its main strategies.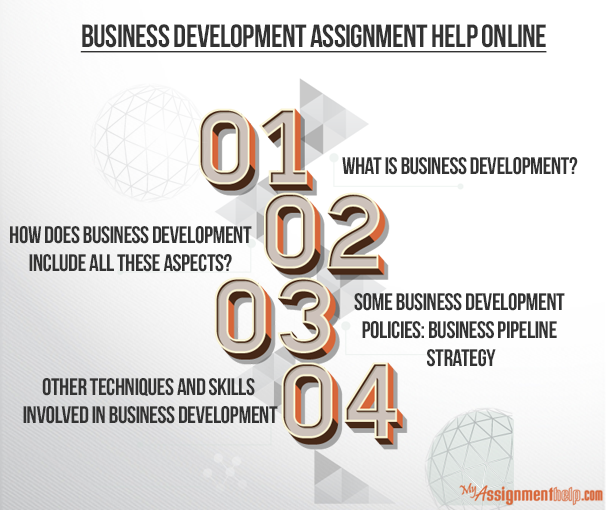 What is business development?

Business development as noted before is an interdisciplinary area of business studies. It incorporates perspectives from organizational theory, business management and commerce. The discipline has evolved into a number of sub-disciplines so much so that, today, IT programmers, specialized engineers, marketers, sales agents etc have tasks related to business development. A job of a business developer is to develop a growth plan and then put that into execution. In the development phase, the business developer collaborates with the production, marketing and the R&D teams etc.
Business development professionals need skills in all the areas of business management, including:
Finance
Marketing
Mergers and acquisitions
Legal
Strategic management
Proposal Management or capture management
Sales experience
Let us discuss each of these areas separately to find out how each of this area contributes to the discipline of business development.
1. Finance
Finance deals with allocation of assets and liabilities of either an individual or a company or a gove
ment during periods of both certainty and uncertainty. There are three main areas of finance:
Corporate finance
Personal finance
Public finance
From the point of view of business development, knowledge of the financial state of a company helps to frame strategies to increase business and reduce costs. There are three types of financial report that declares the financial state of a company. They are:
statement of income that notes the net profit incurred
statement of owner's equity that notes the effect of cash inflow and outflow on the owner's capital
balance sheet that tells the financial state of the company at any given moment.
2. Marketing
Marketing deals with the communication of the value of a product to the customers in order to maximize the profit-making motivations of a company. Marketing has traditionally involved 4 distinct aspects: price, product, promotion and place. Any business development strategy has to take into account the 4Ps of marketing mix.
3. Strategic Management
Strategic management refers to the formulation and implementation of strategy based plans usually undertaken by the top management of a company on the behalf of the board of directors and shareholders based on a careful analysis of the inte
al and exte
al environment of the company. In recent years, the focus of strategic management has shifted from the production process to the marketing processes. Strategy based planning and executions are essential for business development.
4. Mergers and Acquisitions
A part of strategic planning, merger refers to the coming together of two or more companies, while acquisitions refer to the taking over of one company by another. Mergers and acquisitions, as they are called together, consist of distinct stages. They are:

Documentation which involves a letter of intent between two parties to enter into a deal.
Business valuation refers to the evaluation of the market value of both the companies entering in a merger and acquisition
Financing refers to the ways in which a merger and acquisition deal can be carried out either through a cash purchase or through a purchase of stocks etc.
5. Legal Aspects
They involve the various legal aspects of conducting a business. Most of these laws are commercial in nature.
6. Capture management/Proposal management
It refers to the study of proposals for the capture of new businesses.

How does business development include all these aspects?
Business developer has to have knowledge of all these areas. He would then combine his knowledge of all these areas to come up with successful business development policies. He must be aware of the financial situation of the company, the competitive advantage of the company, the ways of finding capital for newer projects etc. Business development over the years has grown into an independent field of business itself. Several companies now provide business development solutions based on prior research.
Some business development policies: Business pipeline strategy
One interesting business development strategy is the "pipeline". It refers to the flow of the potential clients which the company has started developing. Each business development strategist provides each client in the pipeline with a business development plan containing:
Targeted sales figures
Reasons for wins and losses
Top performing sales channels and figures
Sales of services and figures etc.
Other techniques and skills involved in business development
Assessment of marketing opportunities and target markets.
Intelligence gathering on customers and competitors
generating leads for possible sales
advising on, drafting and enforcing sales policies and processes for Business Development
Follow-up sales activity
Formal proposal or presentation management and writing
Pitch and presentation rehearsals
Business model design etc.
Thus we see that business development is a rather complex discipline which includes a number of allied fields. A business developer therefore must have a bit of knowledge in everything: be it finance or accounting or marketing and sales.
In finance he must be aware of capital budgeting, making financial statements, creating financial analysis etc.
In production he needs to know the production process and the raw materials used in the process.
Finally he must also be aware of marketing mix, marketing strategy etc.
How cheapassignmenthelp.co.uk can help students to come up with a business development plan?
Developing a business plan requires specialized skills that must be lea
t in business schools. Students can do with a little bit of help. We at cheapassignmenthelp.co.uk realize this more than any other assignment help sites. As such, we have brought together a number of assignment experts who can provide quality assignment help on all the allied subject areas of management including finance, accounting, marketing, economics, statistics etc.
We have hired experienced tutors, professors and professionals from the field of business development to deliver assignment help at affordable rates. Our experts work under tight deadlines and are committed to deliver high quality assignment solutions. We provide complete assignment solutions on business, marketing, finance, accounting etc. Additionally we proofread and edit your essays before delivering.
In order to get assignment help, you will just have to follow three simple steps:
Log on to cheapassignmenthelp.co.uk and fill out the application form. Alte
atively you can also talk to our call centre executive. You will be required to provide details of the assignments along with page number and number of words.
After our assignment help experts have contacted you with the assignment quote, you will need to pay using one of our payment options. Some of our payment options include Pay Pal and inte
ational credit and debit cards.
Finally, you will get your business development assignment delivered straight to your mailbox.
We provide plenty of discount offers and attractive prices for you and your friend. So in order to avail the services you will need to log on to our service website: cheapassignmenthelp.co.uk.